---
ACES was founded in 1983 by Dr Izz Eddin Katkhuda and Dr Omar Abdulhadi in a small office in Amman, Jordan. In addition to the founders, the company consisted of one part-time secretary, a rented drill rig and a beaten-down pickup truck. These humble beginnings proved to be a solid foundation for growth as ACES today has over 2,400 employees, 150 drilling rigs, and over 20,000m2 of operational laboratory, workshop and office space.
From Jordan, the firm rapidly expanded in service scope and geography to mirror the region's economic transformation. Our Abu Dhabi office was established in 1989, followed by Al Ain in 1991, and Dubai in 1995. Offices in Ramallah and Gaza were established in 1994 and 1997 respectively. The Doha office was established in 1998, followed by offices in Riyadh in 2002,  Sanna in 2005, Jeddah in 2006 and Khobar in 2008. More recently, we have established offices in Iraq in 2020, and Kuwait in 2021.
The second generation Dr. Naeem Abdulhadi and Eng. Izzat Katkhuda were appointed as ACES Co-CEO's in 2021 and aim to build on the ACES legacy and achieve its long-term vision on the path of continued growth and transformation into a global player.
In 2022, ACES expanded its reach beyond the MENA region and into the USA through the full acquisition of MC Squared (www.mc2engineers.com), an engineering firm specialized in geotechnical and foundation engineering, environmental, construction inspection, and material testing. MC Squared has provided its services to a wide range of clients throughout the South Eastern United States across the transportation, aviation, and water and wastewater markets through its offices in Georgia, Florida and South Carolina. 
ACES appointed its first Board of Directors on October 2022, which consists of seven members, including three Independent Directors. The Board brings a wealth of experience, extraordinary professional achievements, and thought leadership that will contribute to and enhance the Group's future strategy and execution.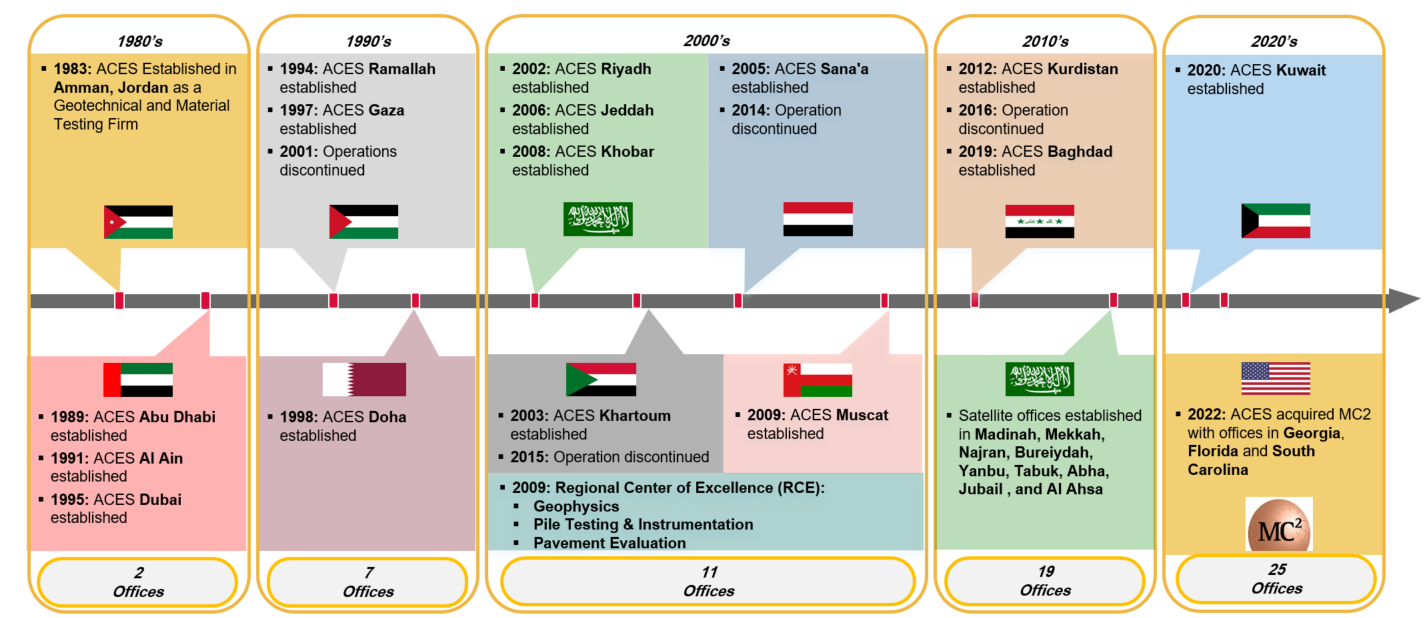 Throughout the past 38 years, we have been honored to be at the forefront of the Middle East's economic boom through our contribution to enhancing the region's engineering codes and best practices, providing technical expertise to the region's landmark projects (including the world two tallest buildings), and training generations of young engineers to become community leaders in the society at large.
Our founder's values, entrepreneurial spirit, and commitment to excellence are espoused in every member of the ACES team and stand as the basis to our continued pursuit of growth and community enablement.