---
With the largest drilling fleet in the Middle East, ACES is capable of conducting comprehensive land and marine geotechnical investigations.
Our professional drilling team and our equipment are able to conduct various drilling and sampling techniques including rotary conventional and wireline core drilling, hollow and solid auger drilling, and percussion drilling. Moreover, our off-shore capabilities extend from shallow water to relatively deep water, with drilling equipment mounted on jack-up pontoons.
The investigations conducted, whether on land or off-shore are accompanied by a full suite of sampling and in-situ testing including but not limited to disturbed and undisturbed sampling, CPT and CPTu testing, as well as expansion, strength, and permeability testing. All samples are then transported to our labs for a complete testing program.
An overview of our geotechnical services is listed below:
Onshore and offshore drilling.

Field testing and geotechnical sampling.

Soil and rock laboratory testing.

Geotechnical studies for dams, roads, buildings and retaining structures.

Geological surveys including geological and geotechnical mapping.

Investigation, monitoring and analysis for slope stability.

Consultation on special geotechnical studies.

Excavation support system design

Finite element modeling analysis

Prospecting studies for mining and construction materials.

Research programs and training courses.
Our services cover an extensive range of geophysical investigation methods including surface, borehole, and marine geophysics
Learn More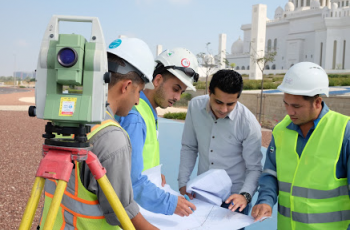 We are one of the regional leaders in the field of land and marine surveying. We provide a full range of services in land and marine surveying
Learn More