---
Our land & marine survey department has considerable knowledge and experience in topographical survey, bathymetric survey, underground utility detection, settlement monitoring, earthwork volume computation, and setting out survey. With complete in-house facilities, state of the art equipment, specialized software and highly qualified survey engineers and surveyors, we are ready to complete your surveying needs.  
The scope of services of the Land & Marine Surveying RCE includes:
Topographic survey.

Nearshore bathymetric survey.

Cadastral survey.

Corridor alignments (horizontal & vertical) and profiles.

Setting out survey.

Underground utility survey.

As-built survey.

Digital terrain modelling.

Establishment of control stations and benchmarks.

Precise and differential levelling.

Settlement monitoring.

Earthworks volume calculations.

Survey consultancy and check engineering.

Hiring of survey crews.

Maps digitizing and conversion of raster to vector.

Hydrographic survey.

Bathymetric survey.

Tidal/current measurements.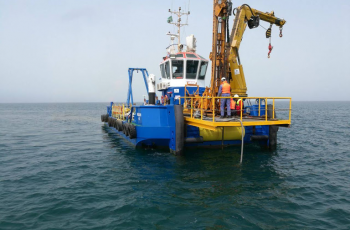 We maintain modern drilling, soil-rock sampling, field and laboratory testing equipment designed for all types of geotechnical investigation purposes
Learn More
Our services cover an extensive range of geophysical investigation methods including surface, borehole, and marine geophysics
Learn More